 
For Face, Body and Hair
Properties: Nourishes, Protects, Regenerates
Indications: Very dry, curly / frizzy hair, dry and sensitive skin
Uses: Nutrition for dry, split hair, hydration of dry skin, anti-crevice foot care, stretch mark prevention
YUZU SHEA BUTTER
Nourishes, protects and regenerates
When the generous Malian shea nut meets the soothing Japanese Yuzu, this fusion of opposites creates an infallible and bewitching product!
This shea butter is made from unrefined raw butter from Mali, enriched with Yuzu oil, a deliciously fragrant citrus from East Asia.
Pure extract from the magic nut of the shea tree, this irreplaceable butter in African traditions is particularly recommended to moisturize, nourish, soften, give suppleness and revitalize the skin and hair.
Full of essential fatty acids and rich in vitamins A, D, E and F, it deserves its name as a magic balm.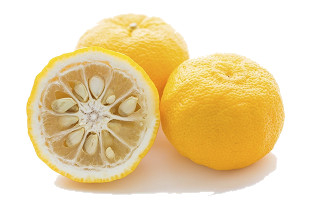 The botanical minute
Yuzu is a shrub of Asian origin. Its growth is slow, but it can measure up to 4 meters in height at maturity. During the months of March and April, small starry white flowers grow on its branches. Its green-skinned fruits resemble pomelo.
INCI : BUTYROSPERMUM PARKII BUTTER, Perfume
Origin : Mali
Part used : Almonds from shea nuts
Method of production : Extracted by pressure
Composition : Rich in fatty acids including oleic and stearic acid
Solubility : Miscible in oil
Texture / odor : Yellow color, pronounced natural odor
PACKAGING :
6.76 fl oz PET jar with aluminum lid.
Find out more about our packaging
How to reuse your empty bottles ?
CONSERVATION :
In a cool, dry and ventilated place, away from heat sources and protected from light.
PRECAUTIONS :
In case of contact with eyes, rinse them for several minutes by opening the eyelids. If swallowed, rinse your mouth.
Did you know ?
Yuzu was introduced to Japan and Korea during the reign of the Tang Dynasty.
Benefits of Shea Butter with Yuzu
- Revitalizes the skin and hair
- Repairs very dry skin
- Facilitates healing
- Treats sensitive skin like that of babies
- Soothes irritations
- Allows better recovery after sport
- Fights against aging
- Effective to fight against extreme cold
- Prevents the formation of dandruff
How to use it?
Body or lip balm
Face care
Healing and repairing balm
Shea whipped cream
Hair cream
Thermo-protective care
For whom?
Dry and dehydrated skin, dry hair, wavy/afro hair, brtittle hair
Suitable for the whole family, even pregnant and lactating women
What product (s) to combine with?
Vegetable oils of your choice
Vegetable glycerin
For body: Put a dab in your bath to have a smooth and protected skin.
In a repairing mask for damaged hair:Apply shea butter strand by strand, leave on under a bating cap overnight for a supple and shiny result, then shampoo.
PRODUCT QUALITY
Particular care is taken with the quality of the selected materials. Made from nuts harvested in Mali, our raw shea and yuzu butters are the fruit of the work of a cooperative bringing together more than a thousand women from 35 villages, who have at heart the survival of their ancestral profession. . This cooperative, certified fair trade by the Fairtrade Labeling Organization (FLO), has given itself the primary mission of improving the environment and the living conditions of its members through a harmonious exploitation of natural resources, including mainly shea butter . As for our pure shea butter, it comes from Burkina-Faso.
Our products are packaged in France with minimal and recyclable packaging.
Customers who bought this product also bought: