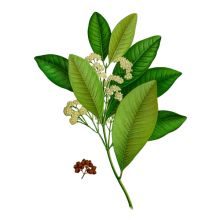 Bay of St Thomas
Body and Hair
Properties: Tonic, Antifungal, Stimulating
Uses: Hair growth treatment, massage oil, scalp toner
Indications: Brittle hair, devitalized hair
Find out more
Bay of St Thomas essential oil
The essential oil of Bay of St Thomas is traditionally known to stimulate hair growth, thanks to its invigorating and stimulating action on the scalp. The essential oil of Bay of St Thomas is also used in massage oils for its soothing action for joint pain, osteoarthritis or rheumatism.
Its very characteristic and spicy smell instantly heats up. Coming from Central America, the Antilles and also from India, the Bay of St Thomas, also called Indian wood, has been used for many years in the pharmacopoeia of these regions, especially in the composition of "bay rum", invigorating cologne with multiple uses. If you want to boost your hair growth, the essential oil of Bay of St Thomas is for you, do not hesitate to add a few drops in your hair care.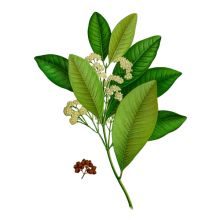 The botanical minute:
The Bay of St Thomas is a plant measuring between 10 and 20 meters high belonging to the myrtaceae family. It grows in particular in the Caribbean, in Central America or in India. It produces very fragrant leaves which are used as condiments in cooking in order to bring flavor.
Composition & Texture
Pure Bay of St. Thomas essential oil is fragrance-free and preservative-free
Very fluid, colorless to pale yellow liquid with a spicy odor similar to cloves
Ingrédient : Pimenta racemosa
Properties
Benefits
Limits the appearance of dandruff
Limits hair loss
Relieves joint pain
Antifungal action
Indications
The information given on essential oils through this booklet is provided for informational purposes. They can in no way replace the advice administered by a doctor. For any therapeutic use or if you wish to obtain more information on essential oils, please consult an aromatherapy professional. Certain natural compounds contained in essential oils can present a risk of allergy in certain people. To measure your tolerance, always make an application test in the bend of the elbow before use in your mixtures.
Not suitable for pregnant and lactating women
Not suitable for people sensitive or allergic to essential oils
Body and hair
Brittle hair
WAAM tips
To avoid hair loss : Mix 10 drops of St Thomas Bay essential oil in 100ml of Mustard oil then massage your scalp between 10 and 15 minutes before shampooing.
For the body : You can mix 100ml of sesame vegetable oil with 30 drops of St Thomas Bay essential oil to massage your painful joints or muscles.
Product quality
Our essential oils are 100% pure and natural and their botanical and chemical identities (chemotypes) are clearly defined.
Particular care is taken with the quality of the materials selected by WAAM. ingredients of natural origin and / or from organic farming. Our commitment includes the absence of parabens, silicones, phenoxythanol, nanoparticles, PEG, perfumes and synthetic dyes
Our commitment is based on a deep respect for Man and nature. WAAM products are made in France with respect for the environment. Their packaging is minimal and recyclable.