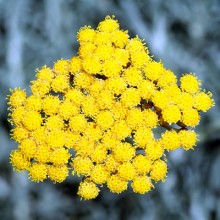 Helichrysum
Face and Body
Properties: Healing, Soothing, Toning
Uses: Hematoma treatment (bumps and bruises), repairing care, healing oil
Indications: Mature skin, acne-prone skin, stretch marks, rosacea
Find out more
Helichrysum essential oil
Helichrysum essential oil The precious Helichrysum essential oil is a daily essential. Its anti-inflammatory and invigorating properties act on the blood circulation and are of great help in the case of bruises, bumps or small sores of everyday life. It is also beneficial to people with stretch marks or scars thanks to its restorative properties.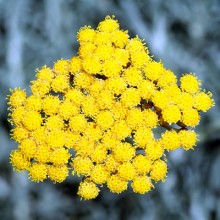 The botanical minute:
Commonly called Italian Helichrysum or immortal, Helichrysum grows in the Mediterranean regions or in Corsica. Its small yellow flowers are called immortal because they never fade.
Composition & Texture
Pure Helichrysum essential oil is fragrance-free and preservative-free
Fluid liquid, greenish yellow to clear and characteristic odor
Ingrédient : Helichrysum Italicum
Properties
Benefits
Care for bruises, bruises and small wounds
Ideal for heavy legs, it helps blood circulation
Healing aid
Reduces the appearance of stretch marks
Indications
The information given on essential oils through this booklet is provided for informational purposes. They can in no way replace the advice administered by a doctor. For any therapeutic use or if you wish to obtain more information on essential oils, please consult an aromatherapy professional. Certain natural compounds contained in essential oils can present a risk of allergy in certain people. To measure your tolerance, always make an application test in the bend of the elbow before use in your mixtures.
Not suitable for pregnant and lactating women
Not suitable for people sensitive or allergic to essential oils
Face and Body
Care of mature and damaged skin
WAAM tips
For the face : Add the equivalent of 0.5% essential oil of Italian Helichrysum in Jojoba oil to concoct a soothing and healing treatment.
For the body : Add 1% Helichrysum essential oil to Shea Butter mixed with Baobab vegetable oil to reduce the appearance of stretch marks.
Product quality
Our essential oils are 100% pure and natural and their botanical and chemical identities (chemotypes) are clearly defined.
Particular care is taken with the quality of the materials selected by WAAM. ingredients of natural origin and / or from organic farming. Our commitment includes the absence of parabens, silicones, phenoxythanol, nanoparticles, PEG, perfumes and synthetic dyes
Our commitment is based on a deep respect for Man and nature. WAAM products are made in France with respect for the environment. Their packaging is minimal and recyclable.