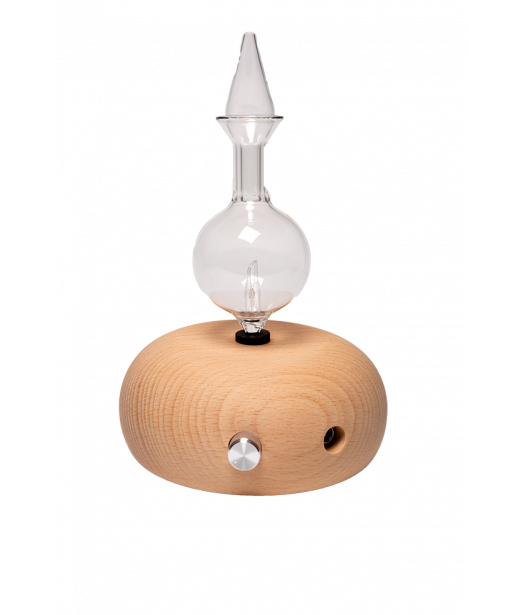  
Essential oil diffuser by cold nebulization
Essential oil Diffuser
With its natural wooden base, no doubt, this diffuser will fit perfectly into your interior decoration.
This essential oil diffuser by cold nebulization and without ultrasound which makes it ideal for diffusion since it allows to keep all the therapeutic benefits and properties of essential oils.
Depending on the essential oils that you select, you can effectively take advantage of their properties to clean air in a room, prevent winter diseases, create a relaxing atmosphere or many other possibilities.
The advantages of this essential oil diffuser: :
The intensity of diffusion is adjustable thanks to the wheel located on the side of your diffuser, so you can easily adapt it to the size of your room.
Its natural and refined design to blend easily into your interior.
The maximum diffusion power that can suit a room of 100m ≤.
Dimensions: Height 170mm, Diameter 110mm
Scope of diffusion : Jusqu'à 100m²
Material: Glass and wooden base
Packaging: Recyclable cardboard box.
Find out more about our packaging
Color: Transparent and light natural wood

Precautions :
-Recommended size of the diffusion space: 20 to 100m²
-For each essential oil, check before each use the precautions.
-Do not use the diffuser in baby rooms.
- Do not diffuse essential oils for more than 20 minutes.
- Do not use the diffuser in closed spaces without ventilation.
- Do not leave it within the reach of children.

Cleaning and disinfection :
Cleaning Regularly and gently clean the glass part with alcohol and allow to dry.
How to use it ?

How to set the diffuser ?
- Insert the diffusion glassware into the motor hole, and add the noise reduction nozzle.


- Connect the USB cable to a USB adapter or directly to your computer.


- Your diffuser can now be turned on thanks to the small dial that can be rotated clockwise.

How to use it ?
- Remove the noise reducer.


- Place a few drops of essential oil or a synergy that meets your needs.
You can diffuse pure essential oils of your choice or mixtures of essential oils, always making sure to check the precautions to be taken for each oil.
Be careful not to put too much essential oil in order to avoid the nebulizer being completely submerged.


- Place the reduction plug and plug the diffuser into an outlet.


- Turn the dimmer button to adjust the intensity of diffusion. To turn off your diffuser, simply turn the same button in the other direction until you hear the significant "Click".

Attention there is no built-in timer, so you must be sure to stop the diffuser by not not exceeding 20 minutes of consecutive diffusions.
Which product (s) to combine with it? ?
Your diffuser is guaranteed 1 year from the date of purchase of your device.
The guarantee covers problems with the operation of your tool.
A guarantee sheet is always available in the packaging of your diffuser.