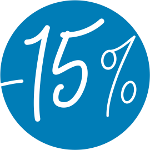  
The botanical minute
The noble laurel is a plant growing in Europe, especially in France in Mediterranean regions like Corsica The latter measure from 2 to 6m in height. Dioecious, the male and female flowers of the Laurel are on two separate stems. These are whitish or yellow-green in color. Bay leaves are very often used as a condiment to flavor culinary recipes.
Ingredients: Lauris Nobilis
100% pure and natural Laurel Noble essential oil. Several possible uses, refer to the technical sheet for more details.
See the technical file
Origin : Morocco
Part used : Leaves
Process of obtaining : Steam distillation of the leaves of Laurel Noble
Composition : - Chemotype : linalool, 1.8 cineol, camphor - Allergens: Citronellol, Coumarin, Eugénol, Géraniol, Limonène, Linalol
Solubility : In oil
Storage
In a cool, dry and ventilated place, away from a heat source and protected from light.
Precautions
Essential oils are to be used with caution. Keep out of the reach and sight of children. Do not use pure. Do not use on children, pregnant or lactating women, and people sensitive to essential oils. Consult a health professional in case of drug treatment or for any other use. Oil with allergenic potential, do a test in the bend of the elbow 48 hours before application.
Our essential oils are 100% pure and natural. We guarantee products of excellent quality, with preserved properties.
Particular care is taken to the quality of the selected materials. All our products are composed of ingredients of natural origin and / or from organic farming. Our commitment includes the absence of parabens, silicones, phenoxythanol, nanoparticles, PEG, perfumes and synthetic dyes.
Our products are packaged in France with minimal and recyclable packaging. All our containers : glass, plastics, boxes and bags are made with recycled materials and non-plasticised.
Customers who bought this product also bought: