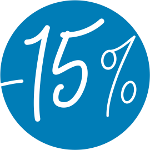  
Properties: Relieving, Stimulating, Anti-infectious
Uses: Dilute the salt in the bath to benefit from its benefits, or in a basin of lukewarm water to benefit from a foot bath
Indications: Skin of the body, face and feet
EPSOM SALT
Relieving, Stimulating and Anti-infectious
Extracted from natural underground deposits, Epsom Salt improves and relieves the symptoms of nail fungus, sprains, bruises and muscle pain. It stimulates circulation, reduces inflammation and helps the process flush out toxins.
Discovered in the 17th century in England, the mineral spring of Epsom quickly gained popularity for its relaxing and detoxifying benefits for the skin. An ancestral remedy for detoxifying the body, this salt is also used to fight against cellulite or water retention. Due to its soothing function, it reduces inflammation and facilitates blood circulation. Rich in magnesium, it relaxes muscles and frees the body of toxins. Its soft texture, pleasant to the touch, deeply cleans pores and soothes pimples and acne. Ideal treatment to relax during a bath.
The mineral minute
Epsom salt contains magnesium, sulfur and oxygen.
INCI : Magnesium sulfate
Names: Pure magnesium sulfate
Origin : France
Composition : Magnesium chloride and magnesium sulfate
Solubility: In water
Texture / odor: Small white crystals
PACKAGING:
14.10 fl oz PET jar with plastic cover
Learn more about our packaging
How to reuse your empty containers?
CONSERVATION:
At room temperature in its original closed packaging, away from heat and humidity. Close the jar after each use.
PRECAUTIONS :
In case of contact with eyes, rinse them for several minutes, opening eyelids. Keep it out of the reach of children.
Did you know ?
The classic sea salt that you will find in your kitchen is different from Epsom salt. The first comes from the Dead Sea and obtained by evaporation of water. It is mainly composed of potassium, iodine and magnesium. Epsom salt comes from the spa of the same name in England and consists only of magnesium.
Benefits of Epsom salt
- Stimulant
- Anti-infectious
- Detoxifying
- Relieves sprains, bruises and muscle pain
- Calms the symptoms of nail fungus
- Fight against cellulite and water retention
- Reduced inflammation
- Improves blood circulation
- Relaxes muscles
- Cleans skin pores in depth
How to use it ?
- Diluted in bath water to detoxify
- Foot bath
For whom?
Tired or stressed people
People prone to muscle pain, sprains, bruises
Which product (s) to combine with it ?
Floral waters
Vegetable oils
Your beauty recipe : Detoxifying salt bath
For body use.
Pour 1 to 2 cups of Epsom salt in a hot water bath (between 35°C and 42°C). Relax during 20 minutes at least in this bath. Then, rince your body abundantly with clear water. End by nourishing the body with an oil or a butter.
5 DIY recipes with this product :
Particular care is taken with the quality of the materials selected by WAAM. Our salts are pure and natural, no preservatives, no additives, no colorings.
Our products are made from ingredients of natural origin and / or from organic farming. Our commitment includes the absence of parabens, silicones, phenoxythanol, nanoparticles, PEG, perfumes and synthetic dyes. .
WAAM products are made in France with respect for the environment. Their packaging is minimal and recyclable. All our containers: glasses, plastics, boxes and bags are made of recycled and non plasticized materials.
Customers who bought this product also bought: