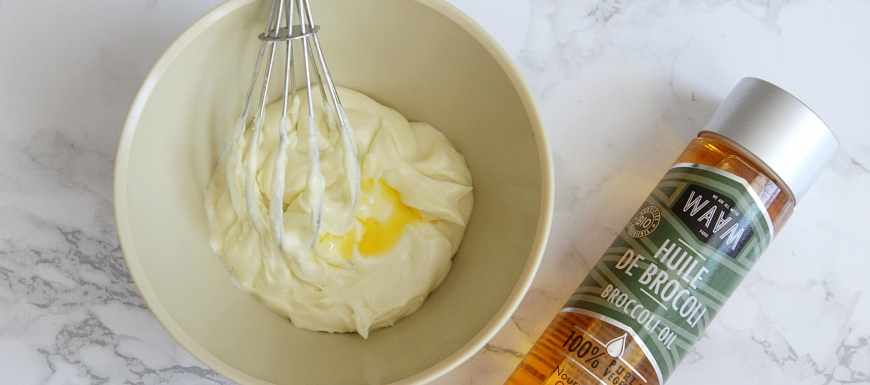 The whipped cream
REC113
Make a hairwhipped cream with broccoli oil to define your curls
Make a whipped cream
The whipped cream Broccoli oil is a disciplining oil par excellence, whether for straightening hair or defining curls. Speaking of curls, today we are offering a very simple, curly whipped cream recipe.
Before starting your DIY recipes, it is important to download the recommended hygiene rules HERE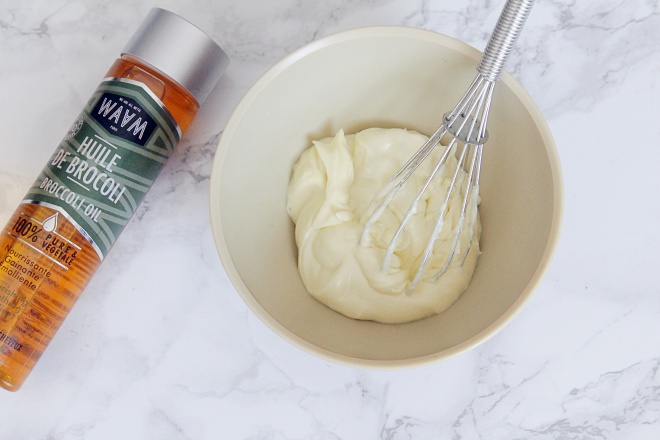 Recipe
— Start by putting your shea butter in the bowl. You can whip it alone to soften it.  
— Add the coconut oil and whisk vigorously to incorporate air and give a more airy texture to your shea butter.  
— Add the broccoli oil and vegetable glycerin. Mix.
— To make it easier to take the whipped cream, you can place your bowl in the fridge for 10 minutes. Whisk again, you will see that the whipped cream will quickly take shape.
Your curly whipped cream is ready.
You can make the recipe up to 4 times from the ingredients listed above.
How to use your curly whipped cream?
This whipped cream is ideal for people who have curly hair and who are looking for a natural solution to redraw their curls.
You can use it on dry or wet head-down hair. You will bounce your balls by squeezing them in your hands and releasing them.
You can also use a diffuser on the cold hair dryer, always head down.
The benefits of this curly whipped cream for your hair
In addition to helping to redesign your curls, this whipped cream will nourish your hair, seal in hydration and make it more shiny. Blogger Healthy and Girly maintains her pretty curls with this 100% natural product.
No more frizz with the broccoli oil.
Choosing yuzu shea butter will help you define your curls even better.
Limonene, Linalool, Citral Geraniol, Citronellol