The stretch mark balm
REC112
Make a stretch mark balm with vegetable oils and Japanese wax
Make a stretch mark balm
Pregnancies, weight gain and loss, or simply genetic predispositions can have an impact on our skin. This sometimes stretches too brutally causing lesions difficult to treat, stretch marks.
What is a stretch mark?
Stretch marks are areas of skin where the deep dermis, located between the epidermis and the hypodermis, tears spontaneously. When they appear, they have the form of streaks resembling scars in length, purplish red in color, and are inflammatory.
They lighten over time to become white and pearlescent, almost the same color as the skin.
Stretch marks are mainly located on the belly, breasts, arms, buttocks and thighs. Very frequent, they can appear during pregnancy, during a significant and sudden weight gain or loss as well as during adolescence
You should know that when installed, the stretch marks no longer disappear, regardless of the treatment chosen. We can slow their onset by properly hydrating and nourishing the skin. They can also be blured, especially on fair skin.
Today we offer you a simple recipe for stretch mark balm to help you make them less visible if they are already present.
Before starting your DIY recipes, it is important to download the recommended hygiene rules HERE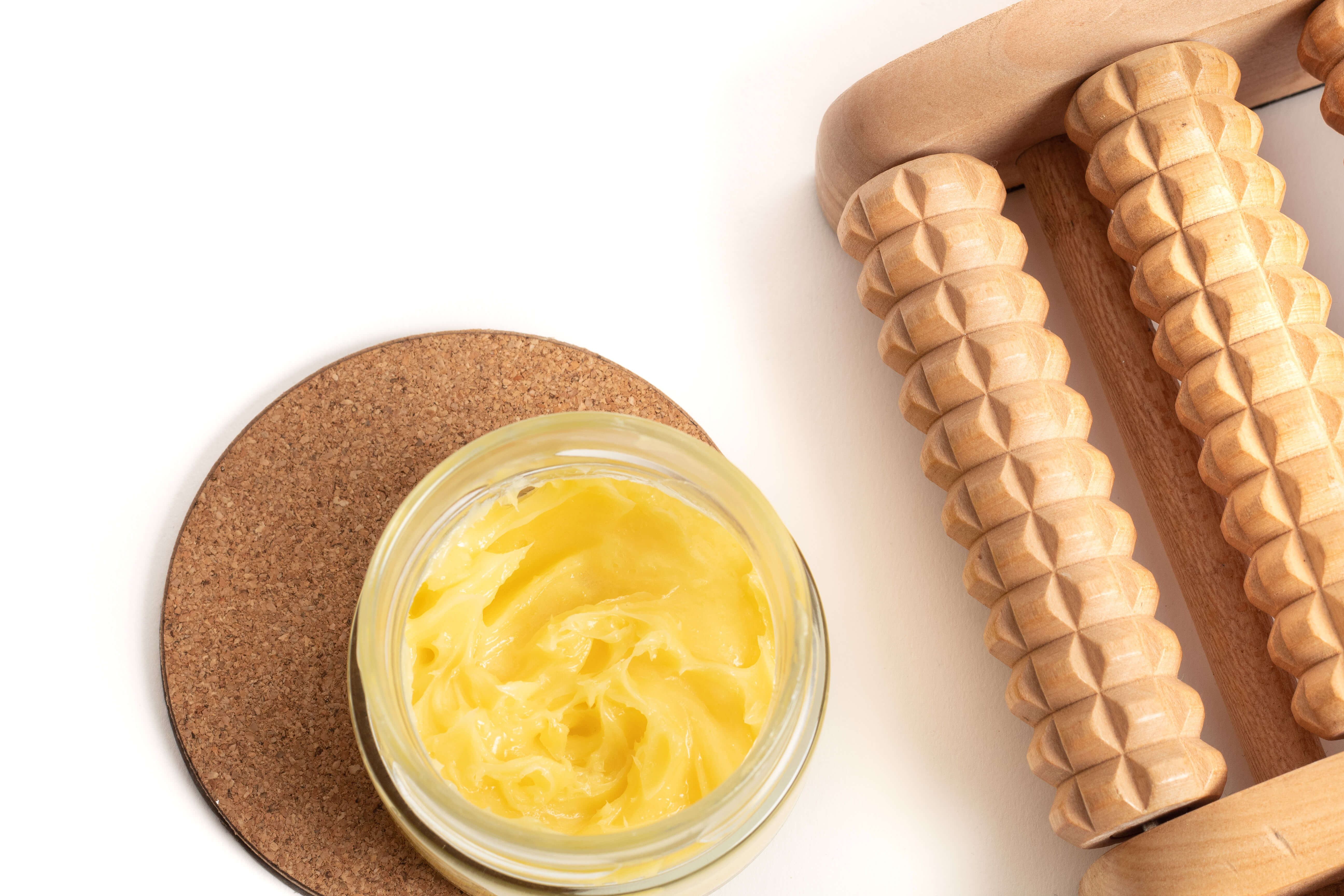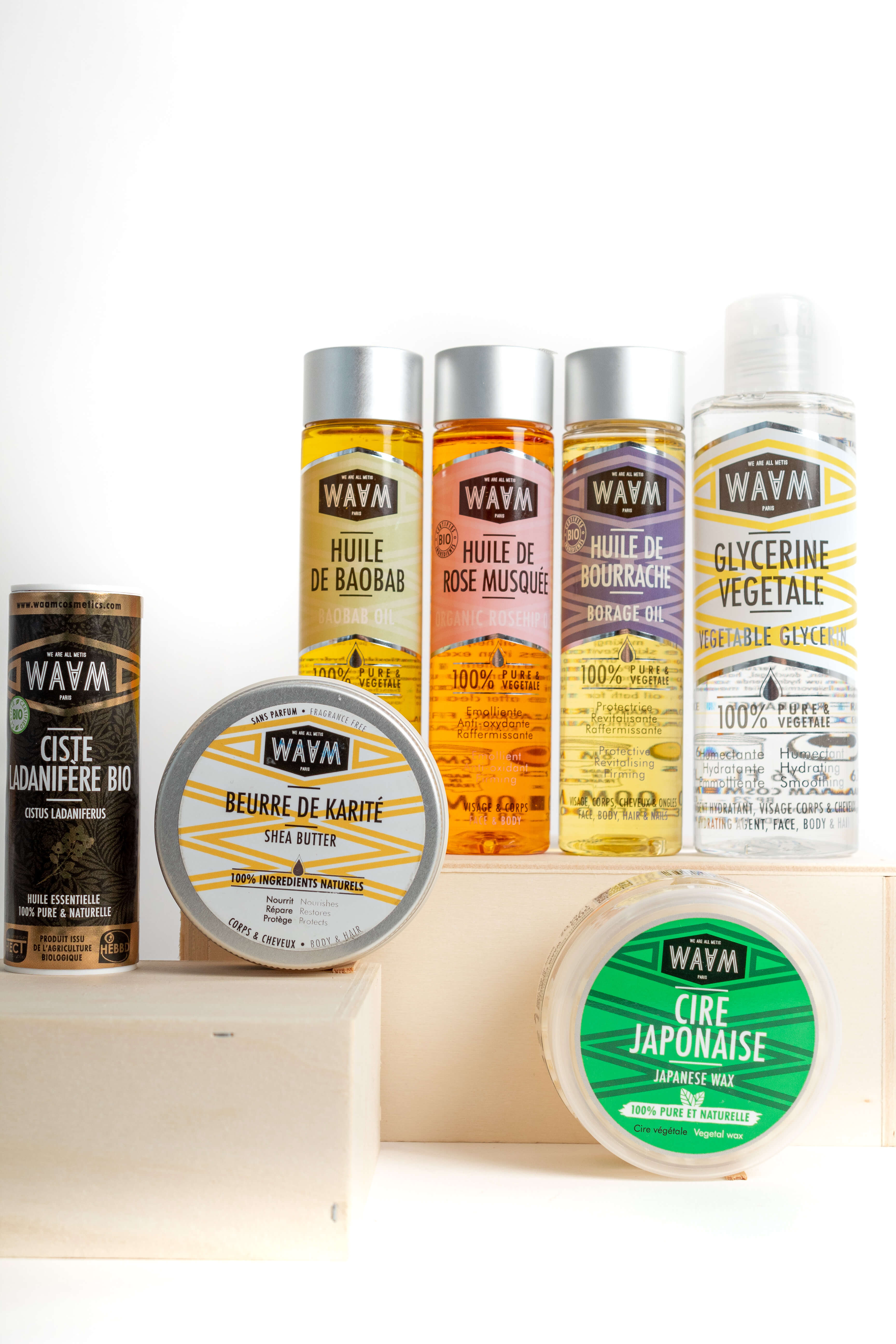 Recipe
— Place the pan on the fire with a bottom of water.
— In the bowl, pour the oils of baobab, rosehip, borage, shea butter and Japanese wax.
— Place the bowl in the double boiler and let all the ingredients melt.
— Once the ingredients are melted, remove the bowl from the double boiler. Add vegetable glycerin, cistus essential oil and the preservative. Mix with a whisk until you get the texture of a balm.
— Transfer your preparation to a clean container. Your stretch mark balm is ready.
You can make the recipe up to 10 times from the ingredients listed above.
How to use the stretch mark balm?
Apply the massage balm daily on the areas prone to stretch marks (belly, thighs, hips, chest, lower back and shoulders). If you are pregnant, apply it from the start of your pregnancy on your belly and chest, however you should not add essential oil in the recipe.
For stretch marks present, the stretch mark balm will help you reduce them, especially on fair skin. It can be used on dark skin, rest assured but the darker the skin, the more difficult it is to blend.
Zoom on rosehip oil
Rose oil is one of the vegetable oils most concentrated in essential fatty acids.
This oil reduces scars, stretch marks, wrinkles and age spots. Its emollient and soothing action nourishes the most dehydrated skin and maintains its good elasticity thanks to the combination of omega 3, 6 and 9 and vitamins such as vitamins E and K.
This oil with unique properties is therefore indicated for multiple uses.
All these combined properties also give Muscat rose oil powerful properties that delay the first manifestations of skin aging, so that the skin regains strength, elasticity and tone.
Essential oils should be used with care. Keep out of reach and sight of children. Do not use pure.
Do not use in children, pregnant or nursing women, and people sensitive to essential oils.
Consult a health care professional for drug treatment or other uses.
Perform a test in the bend of the elbow 48h before application.
Limonene, Linalool, Citral, Geraniol