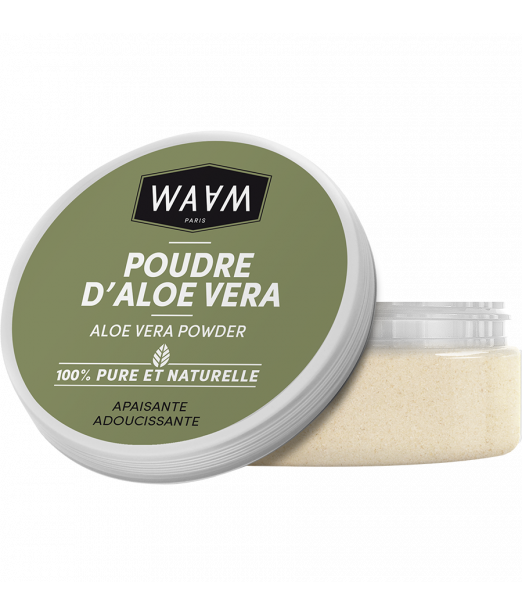  
Face, body and hair
Properties : Soothing and Nourishing
Uses : Skin and hair care and masks
ALOE VERA POWDER
SOOTHING AND NOURISHING
Known since Antiquity, Aloe Vera has many medicinal, food and cosmetic properties.
100% natural Aloe Vera powder is produced from pure Aloe Vera pulp. It contains polysaccharides and is very rich in water. Its richness in amino acids, minerals and vitamins gives it incredible virtues for the skin.
It will be your ally, whatever your skin type, to soothe and heal sunburns, calm irritations, to relieve dry skin, improve the elasticity of your skin or fight against skin aging. Aloe Vera nourishes and hydrates. In a few words, this powder is a must in your natural beauty kit!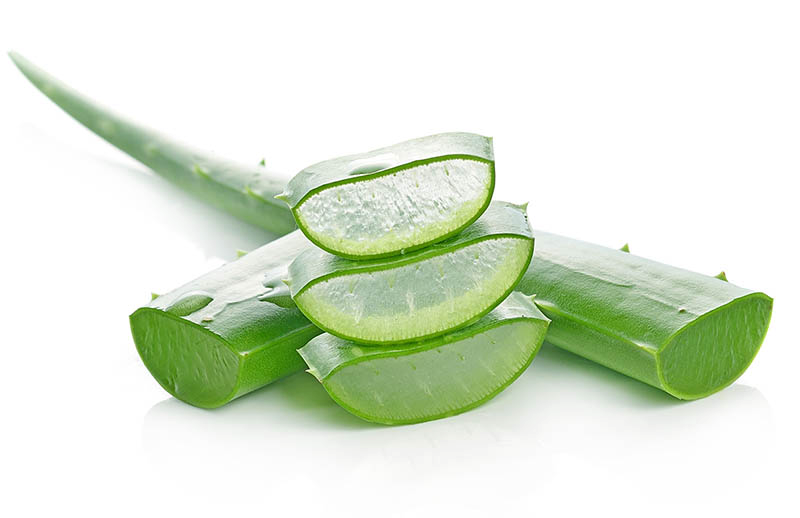 The botanical minute
Aloe Vera is a succulent plant that can reach 1 meter in height. It grows in clumps, even in colonies, with or without stems. Its green to gray-green leaves are thick and fleshy, some varieties have white spots on their upper and lower surfaces. This tropical plant belongs to the family of liliaceae, just like lily, onion, garlic or even the tulip. It has the ability to grow in hot, dry climates. This plant stores water, which allows it to survive in these conditions. This is where it got its nickname "" lily of the desert "".
INCI : Aloe barbadensis Leaf Juice Powder.
Names : Aloe barbadensis, Aloe Vera, Aloe vulgaris, Aloe chinensis, Aloe elongata, Aloe flava, Aloe Indica, Aloe maculate.
Origin : Dominican Republic
Part used : The central mucilaginous pulp
Composition : 100% natural, rich in polysaccharides and water.
Solubility: Miscible in water
Texture / odor : Beige powder.
PACKAGING :
0.71 fl oz PET jar with aluminum lid. Find out more about our packaging .
Find out more about our packaging
How to reuse your empty bottles ?
CONSERVATION :
At room temperature, protected from humidity and light.
PRECAUTIONS :
Keep out of reach of children.
Benefits of Aloe Vera powder
- Fights against skin aging
- Moisturizing
- Nourishing
- Emollient
- Soothing
- Calming
- Healing
How to use it ?
- Incorporated in your skin care, in your sunscreen and after-sun, your shampoo and your hair care
- Diluted in water to obtain natural and organic Aloe vera juice
What products to combine with it?
Plant powders
Floral waters
To make a moisturizing hair spray : Mix some Aloe Vera powder into some hot water. You can even add a little bit of hair care base if you want.
In a container with a spray pump, this mixture will be ideal as a leave-in to sublimate your hair.
3 DIY recipes with this product :
Particular care is taken with the quality of the materials selected by WAAM. All our products are composed of ingredients of natural origin and / or from organic farming. Our commitment includes the absence of parabens, silicones, phenoxythanol, nanoparticles, PEG, perfumes and synthetic dyes.
WAAM products are made in France with respect for the environment. Their packaging is minimal and recyclable. All our containers: glasses, plastics, boxes and bags are made of recycled and not plasticized materials.
Customers who bought this product also bought: