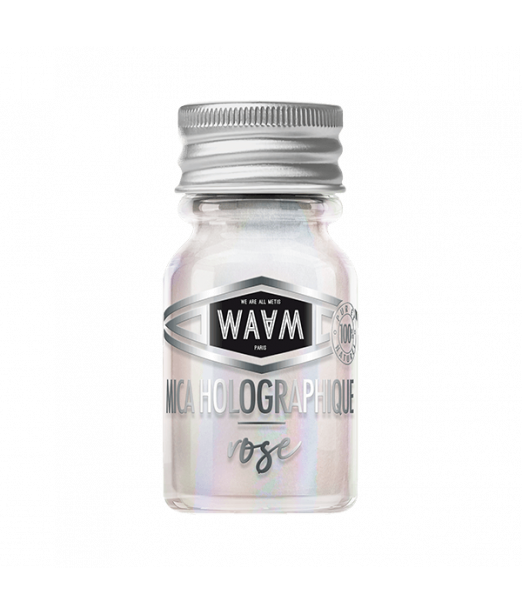  
Face, body and hair
Properties: Illuminator, pearly
Uses: Highlighters, illuminating milk, gloss
PINK HOLOGRAPHIC MICA
Ideal for an illuminating effect, this pearly mica powder with red, pink reflections enhances the natural radiance of the skin by adding a healthy glow.
For this, it will perfectly adorn your cosmetic preparations such as highlighters or illuminating body milk. The particularity of this holographic mica is that it comes from a new mica technology that directly reflects light, even better than classic mica thanks to finer and smoother particles. Thus we obtain a holographic effect with many nuances.
WAAM tips : To enhance your natural glow and brighten your complexion, add a pinch of this magic powder to your creams or body milks. For a pearly effect, you can also use this mica in your gloss preparation.
INCI : Aluminia, CI 77891 (Titanium Dioxide), Tin Oxide
Origin : India
Method of obtaining : Obtaining by extraction of ores, purification, sieving
Taille des particules : 5.0 – 40 µm
Solubility: Insoluble in water or in oil
Storage: Keep in a dry place. Keep out of reach of children.
PACKAGING:
3gr glass bottle with aluminum cover.
* Visual non contractual
Learn more about our packagings
Did you know ?
The word mica comes from the "morning micare" which means to shine, to sparkle. Natural mica has been used since the 1970s as pearlescent pigments in cosmetics. Indeed, these small particles make it possible to reflect the light thus obtaining this pearly and brilliant effect.
Benefits
- Clear color
- Metallic and holographic effect
- Strong shine and smooth skin feel
- Enhances the skin's natural radiance
How to use it ?
- Makeup: Eyes, lips and nails
- Cosmetics: Creams, shower gel, illuminating milk
What product (s) to combine with it ?
Moisturizing milk base
Washing gel base
Cleaning oil base
Your beauty recipe: The gloss
- 1gr of coconut oil
- 3gr of castor oil
- 0.5g of mica
In a clean container, pour the coconut oil, castor oil and mica. Mix and transfer everything to a clean container or a tube with an applicator tip. And now your gloss is ready!
1 DIY recipe with this product :
Particular care is taken with the quality of the materials selected by WAAM. All our products are composed of ingredients of natural origin and / or from organic farming. Our commitment includes the absence of parabens, silicones, phenoxythanol, nanoparticles, PEG, perfumes and synthetic dyes.
WAAM and its suppliers share the same values. Our micas powders are 100% natural and mineral. We guarantee products of excellent quality, with preserved properties. Traceability and working conditions are controlled to ban child labor, slavery or other unacceptable working conditions. Our mica comes only from legal mines, certified by our supplier and sourced.
Our supplier is a signatory of the Responsible Care Initiative of the chemical industry whose charter aims to ensure product safety, environmental protection and safety at work. It also supports education and health projects that improve the lives of families in mining areas. The high acceptance of these offers by the local population shows how important this approach is. Finally, our supplier is a founding member of the Responsible Mica Initiative (RMI), an initiative which aims to contribute to and share best practices.
WAAM products are packaged in France with respect for the environment. Their packaging is minimal and recyclable. All our containers: glasses, plastics, boxes and bags are made of recycled and not plasticized materials.
Customers who bought this product also bought: