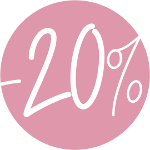  
For Face, Body and Hair
Properties: Softening, Nourishing and Anti-wrinkle
Uses: Face care regulating sebum, day care oil, integrated in a hair mask
Indications: Dry skin, oily skin, dry or brittle hair
2 available capacities: 1.69 fl.oz and 3.38 fl.oz
JOJOBA OIL
Nourishing, restorative, hydrating, protective
This is not an oil but liquid gold. This elixir, to which the Incas lent mystical properties, its number 1 weapon: the light with which it floods our skin.
Elixir from Central America, sometimes called "gold of the Incas", this golden vegetable wax with ultra nourishing properties, protects the skin and slows the appearance of wrinkles.
Jojoba oil, obtained by cold pressing in Argentina, also brings shine, suppleness and strength to the driest hair. Close to human sebum, dry and non-greasy, it is made up of more than 80% of monounsaturated fatty acids (omega 9), which gives it exceptionally healing and restorative properties.
It deeply restructures the skin and regulates sebum production, making it the perfect ally for combination to oily skin.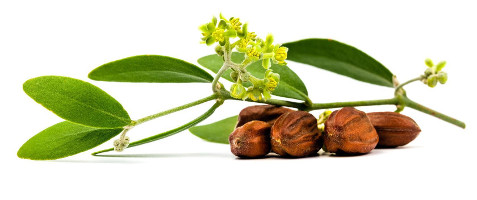 The botanical minute
Jojoba, " Desert gold " or " Sheep's nut " is a shrub that grows in an arid environment. Its seeds are the size of an olive and are used to make wax, in other words "jojoba oil". Jojoba is a shrub whose foliage is reminiscent of that of the olive tree. It can last up to a year and a half without water!
INCI : SIMMONDSIA CHINENSIS SEED OIL
Origin : Israel
Part used : Jojoba seeds
Method of production : First cold pressing
Composition : Rich in fatty acids including eicosenoic acid
Solubility : Not very soluble in 96% alcohol, miscible with petroleum ether
Texture / odor : discreet and neutral odor
CONDITIONING :
1.69 fl.oz PET plastic bottle with white cap
3.38 fl.oz PET plastic bottle with aluminium service cap
Find out more about our packaging
How to reuse your empty bottles ?
CONSERVATION :
Protect from light, tightly closed in its packaging
PRÉCAUTIONS :
In case of contact with eyes, rinse them for several minutes by opening the eyelids. If swallowed, rinse your mouth.
Did you know ?
The Indian name was "Hohowi". The name "jojoba" derives from its old Mexican name: "chohobba", which became "jojoba" in Spanish.
It is also called "gold of the Incas" because it protected their skin from the sun.
Benefits of Jojoba Oil
Slows the appearance of wrinkles
Regulates excess sebum
Dandruff control
Perfect makeup remover
Anti seborrheic action
For whom?
All skin types and hair
Oily, dull or brittle hair
Suitable for the whole family, even pregnant and lactating women
Face, body, hair
Excellent care after shave and makeup remover
How to use it?
Hair oil bath
Face care oil
Serum / hair cream
Sebum regulating
Face serum
What product (s) to combine with?
Vegetable oils
Moisturizing milk
Hair neutral base
Essential oils
Floral waters
WAAM TIPS: Jojoba oil is a perfect make-up remover. Appy few drops directly on the face by massaging smoothly, then rinse and wash the face.
17 DIY recipes with this product :
Our vegetable oils are 100% pure and natural and come from wild plants carefully selected in producing countries. We guarantee products of excellent quality, with preserved properties.
Our vegetable oils are mainly extracted during the year by first cold pressing in order to retain all their properties. Our macerates are obtained by maceration of the plant in Sunflower oil.
We do not add any additives, chemicals, perfumes or dyes. Each vegetable oil has its own properties and represents in itself a nourishing and regenerative treatment.
Particular care is taken to the quality of the selected materials. All our products are composed of ingredients of natural origin and / or from organic farming.
Our commitment includes the absence of parabens, silicones, phenoxythanol, nanoparticles, PEG, perfumes and synthetic dyes.
Our products are packaged in France with minimal and recyclable packaging.
Customers who bought this product also bought: