 
For Face, Body and Hair
Properties: Unifying, soothing, anti-stain
Uses : Unifying care, anti-stain care
Indications: Sensitive skin, mature skin, pigmented skin
ORGANIC LILY OIL
Unifying, soothing, anti-stain
Symbol of purity, we find the oil of Lilys, or rather the oily macerate of Lilys in the oldest cultures.
Rich in amino acids, phytosterols and mineral salts, the properties of Lilys are numerous. Known in particular for unifying the complexion and for its protective properties, Le Lily has a strong affinity for fragile, sensitive or even irritated skin.
Among its other properties, Lily notably makes it possible to reduce skin spots such as dark spots or those due to skin aging, but also scars that leave small areas of hyper pigmentation. The hands, for example, are a sensitive and delicate part of our body. In order to protect and keep them as beautiful as ever, Lily oil is an excellent care to mix with your moisturizing milk base. Lily oil is therefore a real care oil to use in a restorative and soothing routine.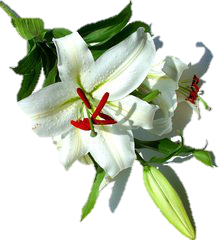 The botanical minute
Flower of legend and symbol of purity, the Lily belongs to the family of liliaceae. This plant is native to Europe, North America and South Asia. The fleur-de-lis can be red, white, orange, spotted or even yellow. The majestic fleur-de-lys are often in the shape of a trumpet or star, and generally fragrant. The lily can measure up to 2m high.
INCI : Lilium candidum flower extract
Origin : Asia
Part used : Dried flowers
Method of production: Maceration of the plant in organic Sunflower oil.
Composition : linoleic acid (omega 6), oleic acid (omega 9), palmitic acid, vitamin F, phytosterols, alcaloides steroidiques
Solubility : phytosterols
Texture / odor : Yellow liquid
PACKAGING :
3.38 fl oz PET plastic bottle with aluminum service cap.
Find out more about our packaging
How to reuse your empty bottles ?
CONSERVATION :
In a cool, dry and ventilated place, away from heat sources and protected from light.
PRECAUTIONS :
In case of contact with eyes, rinse them for several minutes by opening the eyelids. If swallowed, rinse your mouth.
Did you know ?
In the flower language, yellow lily flower represents friendship, orange lily flower represents desire and the pink one is associated to affection.
Benefits of Lily oil
- Brightens the skin and unifies the complexion
- Reduces and delays brown spot
- Soothes skin after sun exposure
- Soothes sensitive and fights redness
For whom?
Face and Body
Pigmented skin,blemished skin, mature skin, hand care
Suitable for the whole family, even pregnant and breastfeeding women
How to use it ?
- Anti-stains serum
- Unifying milk
What product (s) to combine with?
Vegetable oils
Moisturizing milk
Bearberry oil
Essential oils
Soothing your skin after a sun exposure : Apply Lily oil on all the overheated areas for a calming effect.
5 DIY recipes with this product :
Our vegetable oils are 100% pure and natural and come from wild plants carefully selected in producing countries. We guarantee products of excellent quality, with preserved properties.
Our vegetable oils are mainly extracted during the year by first cold pressing in order to retain all their properties. Our macerates are obtained by maceration of the plant in Sunflower oil.
We do not add any additives, chemicals, perfumes or dyes. Each vegetable oil has its own properties and represents in itself a nourishing and regenerative treatment.
Particular care is taken to the quality of the selected materials. All our products are composed of ingredients of natural origin and / or from organic farming.
Our commitment includes the absence of parabens, silicones, phenoxythanol, nanoparticles, PEG, perfumes and synthetic dyes.
Our products are packaged in France with minimal and recyclable packaging.
Customers who bought this product also bought: