 
For Face, Body and Hair
Properties: Soothing, Restorative, Regenerating
Uses: Baby liniment, soothing care, baby cleansing milk, post-hair removal serum
Indications: Sensitive skin, dry skin, problem skin, sensitive scalp
CALENDULA OIL
Soothing, Restorative, Regenerating
Calendula oil, also known as "Marigold", has been used for centuries for its soothing and anti-inflammatory properties.
Calendula oil will offer you all its restorative benefits to nourish and soothe even the most delicate skin, as well as irritated scalps. Of Mediterranean origin, it was traditionally used in the case of burns or irritation of the skin because it is particularly soothing. In cosmetic use, Calendula oil is a wonder for sensitive skin prone to feelings of discomfort and tightness, but also for the fragile skin of babies. Indeed, this oil has the particularity of being considered as a hypoallergenic oil, ideal for the delicate skin of babies which is often prone to redness and small irritations.
In addition to being very gentle, it is also antiseptic and anti-inflammatory, it has the distinction of soothing the skin following burns and reducing edema and congestion. Its composition rich in antioxidants gives it protective properties which in particular help to regenerate skin cells and protect the skin from aging. Calendula oil is without a doubt a complete oil for the whole family!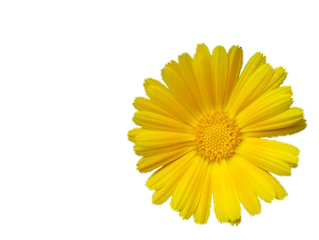 The botanical minute
The calendula (or marigold) flower is known for its dyeing qualities. It has long been used for its yellow color obtained from the decoction of its flowers, a natural dye and not harmful to health.
INCI : Helianthus annuus seed oil, Calendula officinalis flower extract
Origin : Germany, Albania, Egypt
Part used : Dry flowers
Process for obtaining : Extract obtained by filtration after long maceration and stirring of the plant in organic Sunflower oil.
Composition : Carotenoids, alcohols triterpenics, physterols, phenolic acids, tannins, flavonoids.
Solubility: In oil
Texture / odor : Orange yellow liquid
CONDITIONING:
3.38 fl oz PET plastic bottle with aluminum service cap.
Learn more about our packaging
How to reuse your empty containers?
CONSERVATION :
In a cool, dry and ventilated place, away from heat sources and away from light.
PRECAUTIONS :
In case of contact with eyes, rinse for several minutes by opening the eyelids. If swallowed, rinse your mouth.
o Did you know ?
Le Souci (French appellation) takes its name from the Latin "solsequia", which means "that follows the sun". Calendula flowers open at sunrise and close at bedtime. In Latin, Calendula means "the first day of the month" among the Romans. Indeed, its flowers follow each other every month. Flowering occurs in waves of 30 days.
Benefits
- Reduces feelings of tightness
- Soothes sensitive skin and skin inflammations
- Soothes burns and itching
- Brings elasticity to the skin
- Its softness allows the realization of care for children and babies
For whom ?
Sensitive, irritated, mature, dry skin
Suitable for the whole family, even for pregnant and lactating women
How to use it ?
Baby liniment
Anti-redness treatment
Soothing sunburn oil
Soothing care
What products to combine with it?
Vegetable oils
Hydrating milk
Cleansing oil
WAAM TIPS : Few drops of calendula oil in the baby's bath to enjoy its soothing and restorative properties.
6 DIY recipes with this product :
Our vegetable oils are 100% pure and natural and come from wild plants carefully selected in producing countries. We guarantee products of excellent quality, with preserved properties.
Our vegetable oils are mainly extracted during the year by first cold pressing in order to retain all their properties. Our macerates are obtained by maceration of the plant in Sunflower oil.
We do not add any additives, chemicals, perfumes or dyes. Each vegetable oil has its own properties and represents in itself a nourishing and regenerative treatment.
Particular care is taken to the quality of the selected materials. All our products are composed of ingredients of natural origin and / or from organic farming.
Our commitment includes the absence of parabens, silicones, phenoxythanol, nanoparticles, PEG, perfumes and synthetic dyes.
Our products are packaged in France with minimal and recyclable packaging
Customers who bought this product also bought: