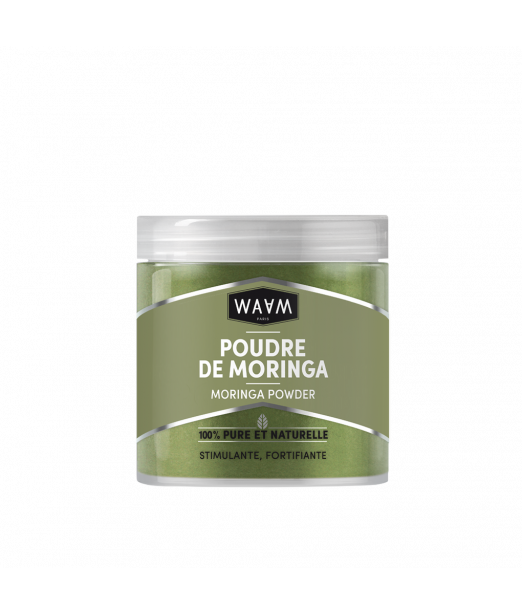  
Face, Body and Hair
Properties: Stimulating, Fortifying
Uses: Skin and hair care
Indications :  Dull and brittle hair, mature skin
MORINGA POWDER
Stimulating, strengthening
Today considered a " superfood ", Moringa contains many vitamins, but also minerals and amino acids.
Moringa is an important plant of the Ayurvedic tradition, where it is used in different forms and for the treatment of many ailments.
The craze for Moringa powder is explained by the presence of 7 times more vitamins C than in an orange, 4 times more beta-carotenes than in a carrot, 4 times more calcium than in milk, 9 acids amino, 3 times more iron than spinach and 3 times more potassium than bananas.
This powder also helps stimulate hair growth and revitalize dull and mature skin, so it works wonderfully in your masks.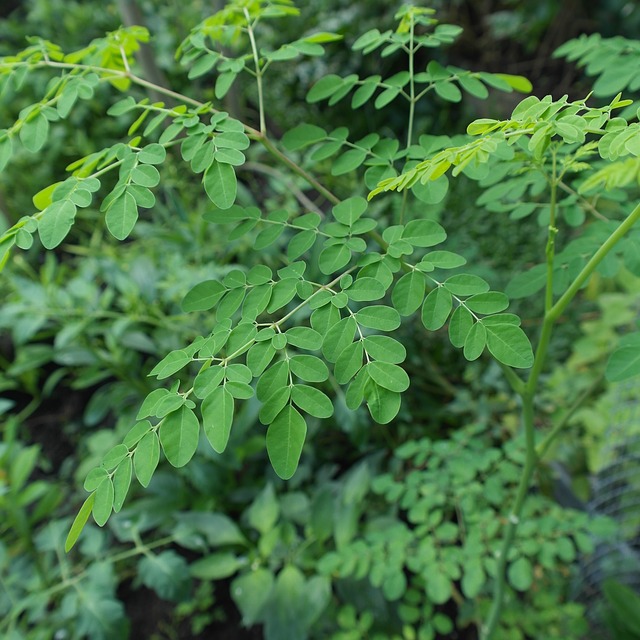 The botanical minute
In Moringa everything is consumed or almost, even if it is the Moringa leaves which are widely distributed, the Moringa flower as well as the Moringa seeds are also consumed.
INCI : Adansonia Moringa Oleifera leaf powder
Origin : Senegal
Part used : Moringa leaves
Process for obtaining : Milling after washing and drying
Composition : 100% natural Moringa powder
Solubility: Insoluble in water and oil
Texture / odor : Greenish Powder
CONDITIONING:
100g PET jar with plastic lid
Learn more about our packaging
How to reuse your empty containers?
CONSERVATION:
At room temperature and protected from light.
PRECAUTIONS :
Keep out of reach of children. Avoid contact with eyes. In case of contact with the eyes, rinse thoroughly.
Did you know ?
In some African villages, in Egypt or in Sudan, Moringa is used to purify the water of the Nile. Its seeds contain proteins that have the ability to eliminate many impurities and bacteria.
Benefits of moringa powder
- Stimulates the body
- Helps to fight against hair loss
- Regenerates mature and dull skin
- Helps purify blemished skin
- Stimulating
- Fortifying
How to use it ?
- Incorporated in hair care
- In a smoothie to strengthen your body
For whom ?
Mature skin
Brittle hair
People subject to transient fatigue
FOOD: Consult your doctor in case of drug treatment. Contraindicated in pregnant women. Not recommended if a person is under 18.
What products to combine with it?
Floral waters
Hair care base
Plant powders
Considered as a "superfood" Moringa contains several vitamins and minerals. It can be used as a treatment, 5gr a day in a juice or a soup and it will give you a boost. (Make sure to consult a doctor in case of medical treatment).
1 DIY recipe with this product :
Our vegetable powders are 100% pure and natural. Mostly extracted during the year by first cold pressing of wild plants, we guarantee products of excellent quality, with preserved properties.
Particular care is given to the quality of the selected materials.
All our products are composed of ingredients of natural origin and / or from organic farming.
Our commitment includes the absence of parabens, silicones, phenoxythanol, nanoparticles, PEG, perfumes and synthetic dyes.
Our products are packaged in France with minimal and recyclable packaging.
Customers who bought this product also bought:
THE EXTRACTS AND ACTIVATORS