 
Hair
Properties: Stimulating, Nourishing and Strengthening
Uses: In oil bath and scalp massage to fight against hair loss and stimulate growth
Indications : Fine, brittle hair. Avoid on irritated scalps.
2 possible capacities: 1.69 fl.oz or 3.38 fl oz
MUSTARD OIL /h2>
Stimulating, Nourishing and Strengthening
Mustard oil is a precious beauty secret of Indian and Arab women, a nugget for hair growth.
It is known to effectively fight against hair loss and dandruff, it stimulates blood circulation while providing shine and hydration. It is the ideal treatment for ever longer and silky hair. Powerful oil with a pungent odor, it fights against hair loss and promotes growth. Strengthening and fortifying, its fatty acids protect the length of hair.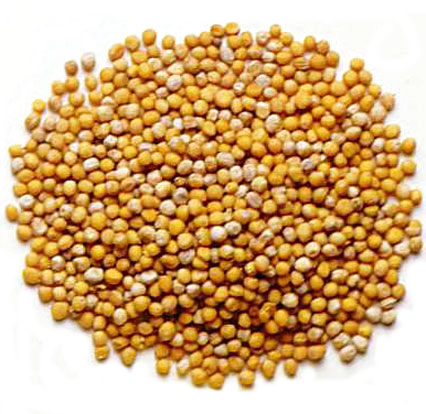 The botanical minute
Mustard is an annual plant that belongs to the Brassicaceae family, just like Brussels sprouts or wasabi. It germinates, grows and flowers, then dies producing seeds. Thanks to its very rapid growth rate, this plant can reach maturity in a month. Mustard is a plant that produces edible seeds and leaves. These are used to obtain mustard oil. Rich in omega 3, phosphorus, iron or even magnesium, it has been used since antiquity for its therapeutic properties.
INCI : Brassica alba seed oil
Names : Brassica alba seed oil
Origin : Canada
Part used : White mustard seeds
Method of production : Extraction of Brassica alba seeds
Composition : erucic acid, oleic acid, linolenic acid (omega 3) and allyl isothiocyanate
Solubility : Miscible in oil
Texture / odor : Spicy odor
PACKAGING :
1.69 fl oz PET plastic bottle with white service cap.
3.38 fl oz PET plastic bottle with aluminum service cap.
Find out more about our packaging
How to reuse your empty bottles ?
CONSERVATION :
In a cool, dry and ventilated place, away from heat sources and protected from light.
PRECAUTIONS :
In case of contact with eyes, rinse them for several minutes by opening the eyelids. If swallowed, rinse your mouth.
Did you know ?
Mustard has been used since the Middle Ages as a vegetable and as a condiment. Melliferous, this plant promotes pollination. So plant it in your garden, near your fruit trees, to get better crops.
Benefits of Mustard Oil
- Stimulates blood circulation
- Fights against hair loss and dandruff
- Tonifies the scalp
- Covers the hair fiber
- Brings shine and nourishes the hair for dull, dry, unruly hair
- Anti-hair loss
- Anti Dandruff
To accelerate hair growth: Before shampooing, apply a few drops of Mustard oil as an oil bath and perform light massages on the scalp. Rinse and shampoo.
7 DIY recipes with this product :
Our vegetable oils are 100% pure and natural and come from wild plants carefully selected in producing countries. We guarantee products of excellent quality, with preserved properties.
Our vegetable oils are mainly extracted during the year by first cold pressing in order to retain all their properties. Our macerates are obtained by maceration of the plant in Sunflower oil.
We do not add any additives, chemicals, perfumes or dyes. Each vegetable oil has its own properties and represents in itself a nourishing and regenerative treatment.
Particular care is taken to the quality of the selected materials. All our products are composed of ingredients of natural origin and / or from organic farming.
Our commitment includes the absence of parabens, silicones, phenoxythanol, nanoparticles, PEG, perfumes and synthetic dyes.
Our products are packaged in France with minimal and recyclable packaging.
Customers who bought this product also bought: