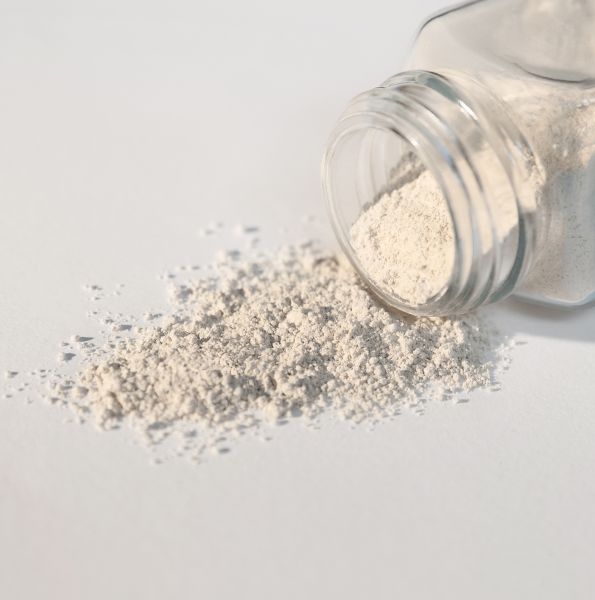 Powdered hygiene products to make travelling easier!
Travelling with your cosmetics is always complicated! They take too much space and are not practical to use when travelling by plane, backpacking, trekking, etc... We've got a solution for you, even if you're taking the most 'crazy' trip of your life to the other side of the world!
Why should I use powdered hygiene products when I travel?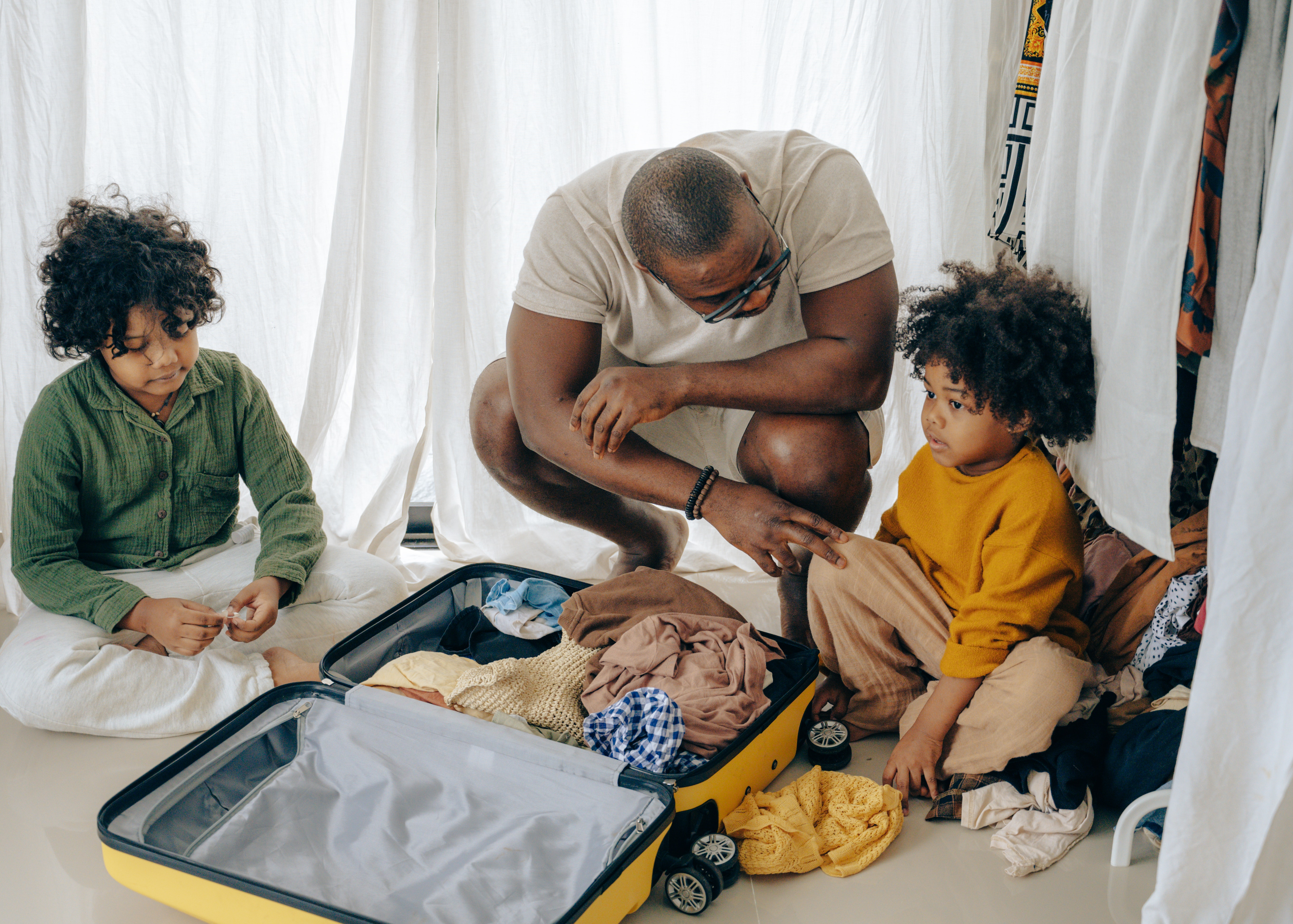 Hygiene products when traveling: a real problem! Preparing your toiletry bag with everyday hygiene products - shower gel, liquid shampoo, toothpaste, etc. - isn't easy or practical at all. Between leaks in the suitcase, 1001 products for the whole family, or for solo travelers, it's impossible to fit all the products in the cabin suitcase on a plane! Don't worry, we've found the solution: powder products!
Powdered products? But how? And why? And above all, which ones?
Don't panic, we'll explain everything here and find solutions for your next trip.
Hygiene products when traveling with the family
Family travel can be a real headache. Fill your suitcase with products suitable for the whole family: different shampoos for the kids, different shower gel for dad and, above all, don't forget mom's face wash. Don't panic! Opt for powder products that work for the whole family.
Charcoal powder : Ideal and practical, charcoal powder will replace many of your bathroom products. Used as a mask or toothpaste, it purifies and detoxifies. Its 40g pot is practical to take with you on all your travels and excursions.
To use, simply sprinkle a small amount of Charcoal Powder onto your damp toothbrush and brush as usual. Rinse thoroughly and admire the whiteness of your teeth.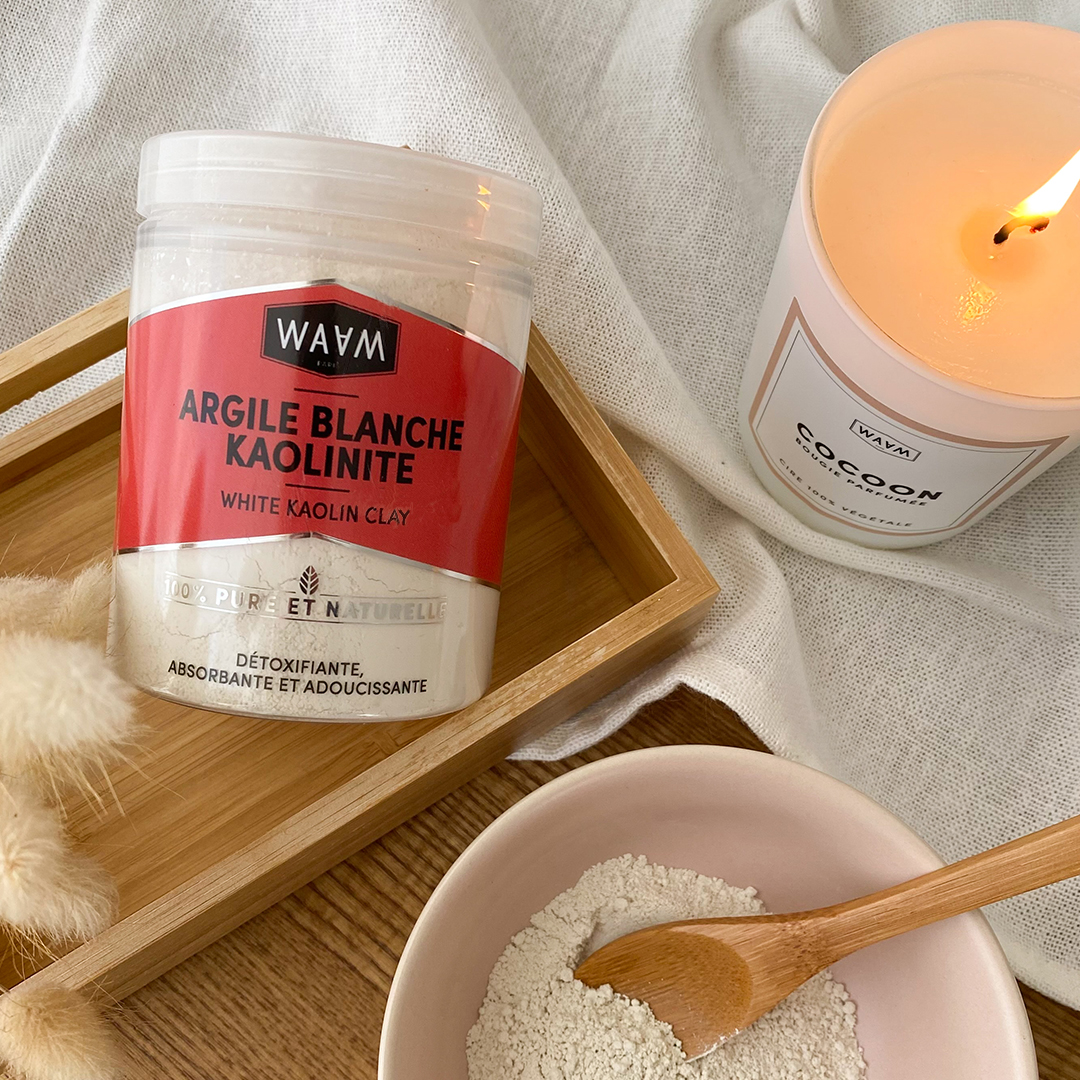 Shikakai powder : Wash your hair naturally while strengthening and detangling it with Shikakai powder, an Indian powder with numerous properties. You can also make your ownshampoo with Indian powders.
Ritha powder: Anti-dandruff and purifying for hair, this powder also cleanses and purifies the skin. It's the perfect replacement for your shampoo, shower gel and facial cleanser. Make your own solid shampoo with this powder.
Clays are also highly effective hygiene products. Choose fromwhite Kaolinite clay,green clay, red Montmorillonite or Rhassoul. In shampoo, toothpaste, anti-perspirant talc, you can also create minute masks by mixing clay with a little water! Easy and useful, Clay is a must-have for every bathroom. This product alone replaces everyday hygiene products. Natural and soap-free, it's the perfect product to take with you on your travels! It will be discreet and light in your suitcase.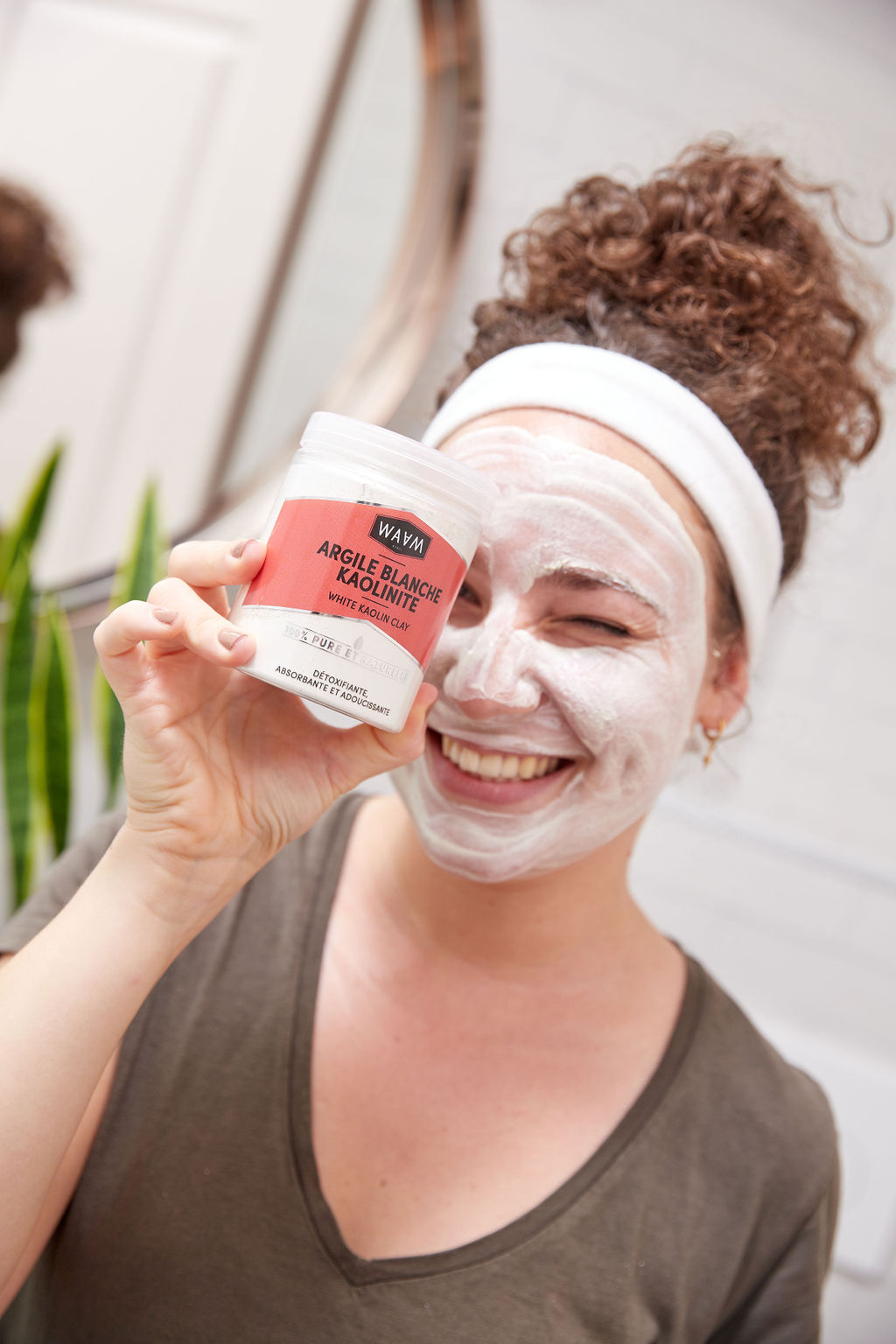 My minimalist powder routine
For a minimalist routine, you'll need just one product in your suitcase. There's no need to carry around several products:clay is your travel toiletry bag.
For a complete minimalist routine:
Face: A little moistenedclay to wash your face. If you're looking for a more complete moment of relaxation, make a paste by mixing clay with water. Apply the mask with a brush, leave on for a few minutes, then rinse off.
Toothpaste: Sprinkle a littleclay on your damp toothbrush and brush as usual.
Shampoo: As a dry shampoo, a shampoo minute or to replace your usual shampoo, there's nothing better thanclay. If you have dull hair,montmorillonite red clay is perfect for restoring shine and radiance.
Anti-perspirant talc : A littlewhite clay under the armpits and you'll be ready for your hike!
WAAM travel toiletry kit: MAGIC POWDERS
We agree, white clay really is the emergency product!
We wanted to offer you a unique experience with powder products: refillable, recyclable packaging, water-free, preservative-free and practical for light travel!
Why this new powder range?
The cosmetics industry is a real source of waste and pollution from the water used in manufacturing, since water can make up 60 to 90% of a conventional cosmetic product.
The CO2 footprint of liquid cosmetics in general is significant, as they are heavy and bulky. Powder formulas, on the other hand, take up less space because of their low density, which considerably reduces the CO2 footprint.
Preservatives have a negative impact on the environment, they pollute and can have undesirable effects on health.
This is why the MAGIC POWDERS RANGE was born. A genuine travel toiletry kit with powdered versions of everyday products. You can create your own toiletry kit with: Face Wash Powder, Shower Powder, Shampoo Powder and Toothpaste Powder.
A fresh scent, a pleasant texture and, above all, recyclable packaging that's easy to carry on your plane or in your backpack!
Here's a closer look at each of the products in the MAGIC POWDERS range: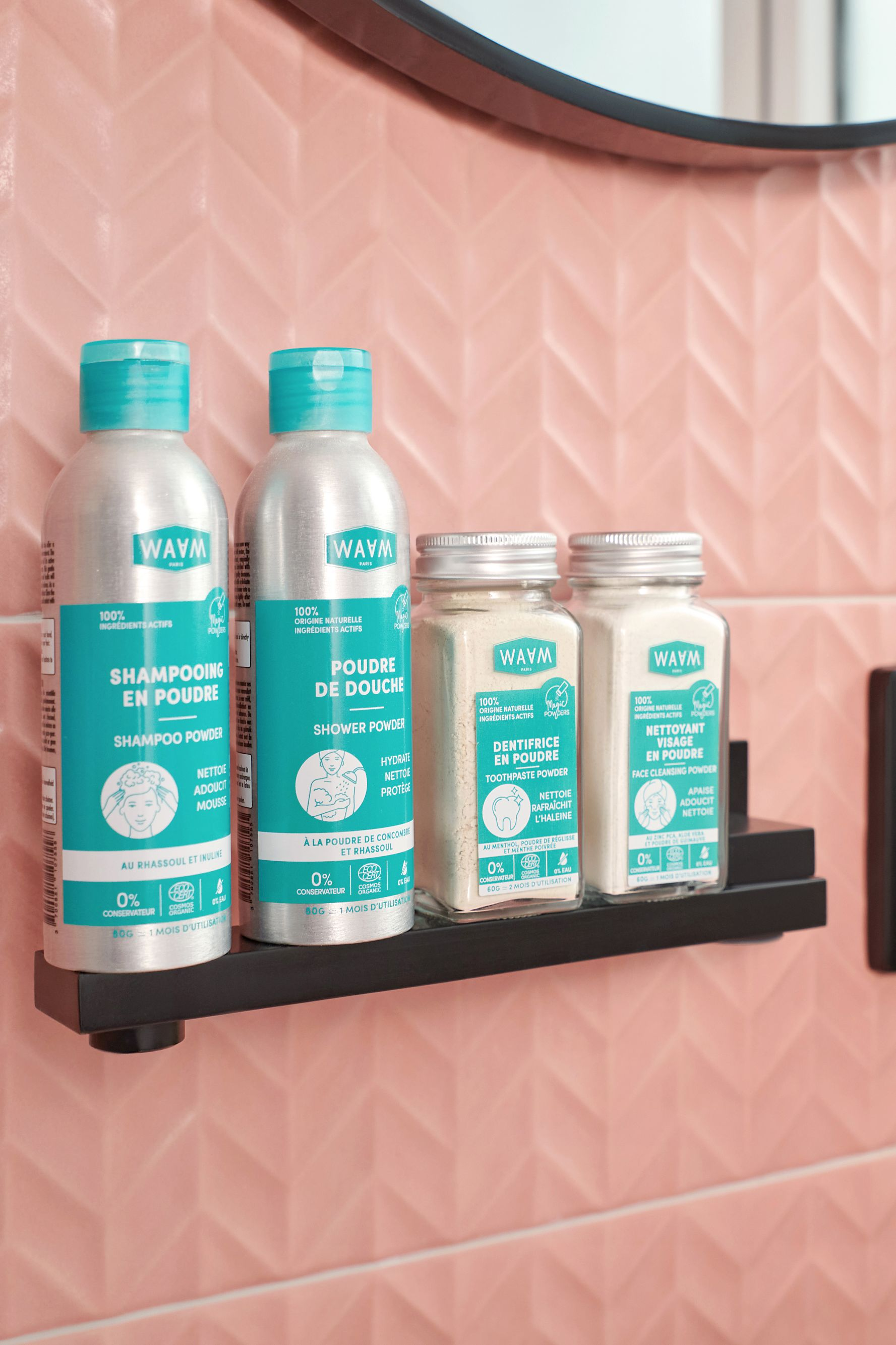 This powder facial cleanser offers a fun and effective experience for a healthy beauty routine that respects your skin and the environment. On contact with water, the powder transforms into a fine, creamy foam suitable for all skin types. Its formula, rich in marshmallow powder, zinc pca and aloe vera, makes this cleansing powder a real skincare product. It cleanses, soothes and softens all skin types.
USE
Pour a small amount into your hand.
Add a few drops of water.
Massage over face to cleanse.
Rinse off.
Playful and ecological, this Shower Powder offers a new way of caring for your skin on a daily basis. On contact with water, the powder, composed of 100% active ingredients, transforms magically into a soft, fine cleansing foam. Enriched with rhassoul, sodium bicarbonate and cucumber, it gently cleanses and leaves the skin clean, soothed and delicately scented with a note evoking springtime freshness, making your shower a true moment of pleasure.
USE
Wet body.
Pour a dab of powder into your hand or directly onto the body.
Add water to your hands to create a lather.
Apply the foam to your body and rinse.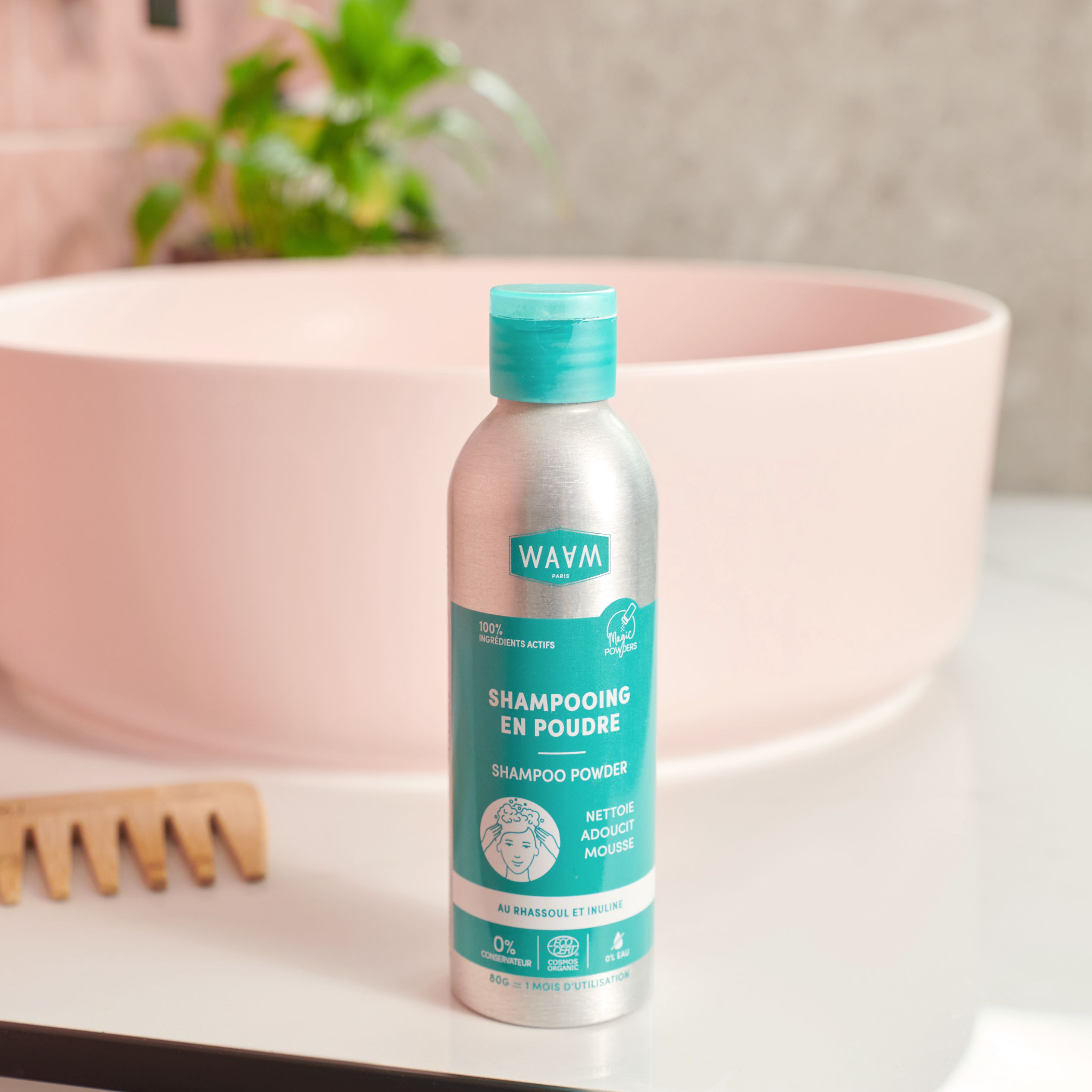 This Powder Shampoo contains only the essentials for a magical moment of pleasure while respecting the environment. The powder transforms into a creamy lather and releases all its active ingredients on contact with water. This gentle formula, enriched with rhassoul, shikakai powder and inulin, will gently cleanse your hair, while adding shine and volume. Its added bonus: a fresh, enchanting spring fragrance.
USE
Wet your hair and hands thoroughly.
Pour the powder into your hand according to the length of your hair (1 tablespoon).
Add water to your hands to work into a lather.
Apply to hair, lather and rinse. (Don't hesitate to re-wet hair to reactivate lather).
Experience a new way to brush your teeth with Powder Toothpaste, which activates on contact with water and transforms into a light foam. Made with licorice powder, white clay and calcium carbonate, this toothpaste offers perfect dental hygiene. Enriched with menthol crystals and peppermint essential oil, it ensures pleasant, fresh breath all day long. Caution: For adults and children aged 7 and over only.
USE
Wet toothbrush.
Place toothbrush over the opening provided.
Tilt bottle so that powder settles on brush.
Brush and rinse.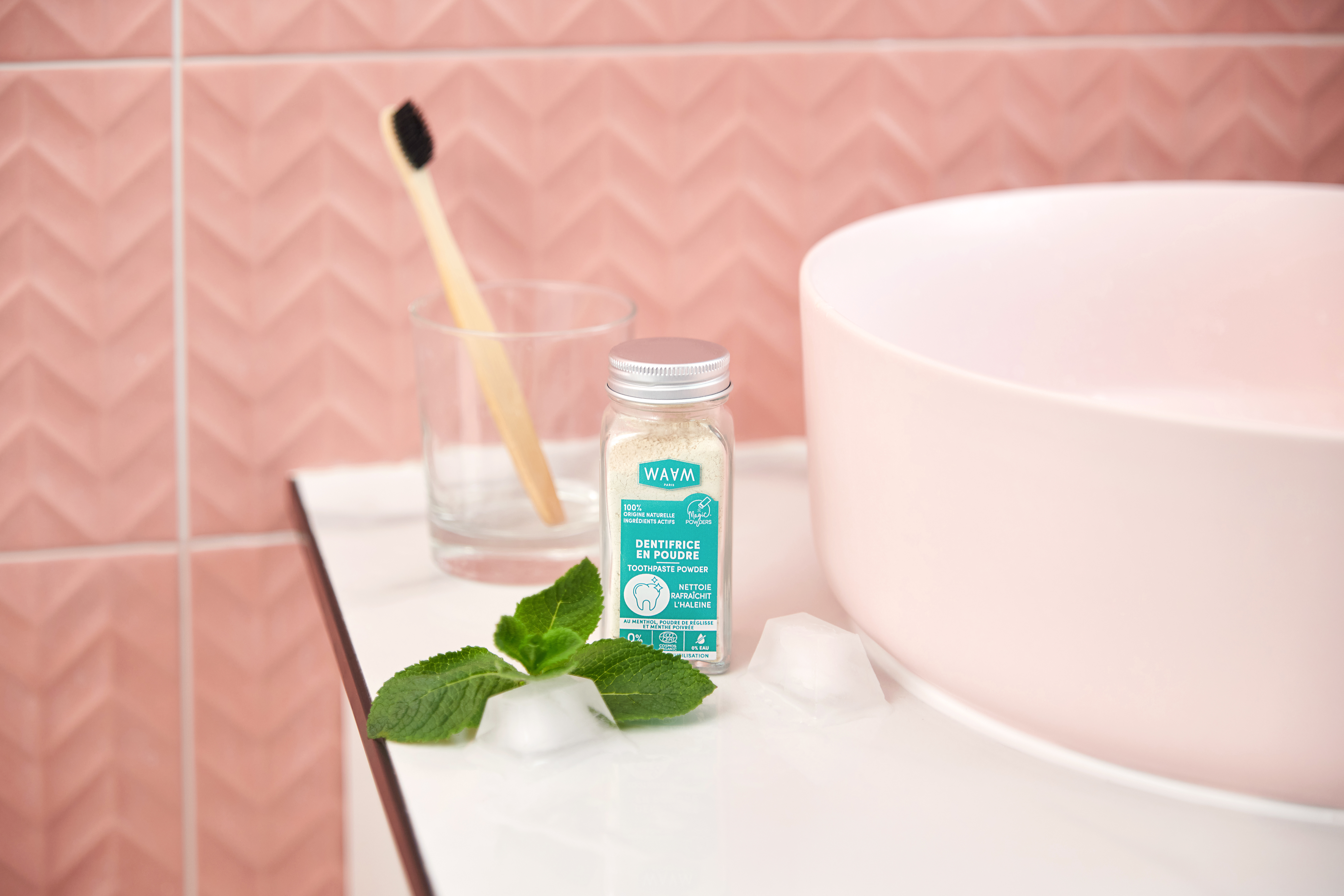 Easy to use, economical, eco-responsible, waterless - all advantages that will change your hygiene routine!
WE APPRECIATE YOUR FEEDBACK
Did you like this story?