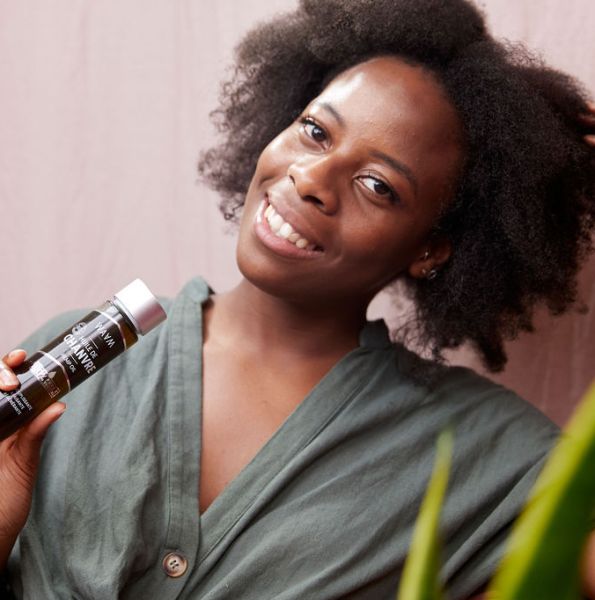 5-step curly hair routine
Curly hair is naturally dry and needs lots of moisture. It is important to know the curl of your hair so you can maintain it at its best.
With the right hair care routine, your curly hair will be healthy, soft, shiny, and grow faster. Curly hair is quite fine and needs a lot of love!
Pre-poo for frizzy hair
This step in a routine for dry hair, whether frizzy, curly or frizzy, is essential. This is when you prepare your hair for all the steps that follow. Afro hair needs a lot of nutrition and hydration, and the pre-poo is there to fill that need in a variety of ways.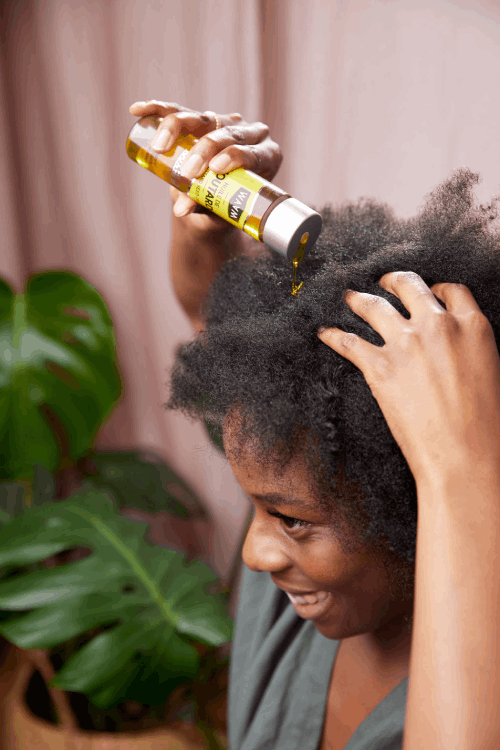 Oil baths
To deeply nourish your hair, you can use an oil bath during the pre-poo stage.
Select your oils according to your needs and, above all, your hair. Pay close attention to your hair's reactions, as some oils can be much more effective than others.
Moringa oil : This oil has strengthening, protective and sheathing properties, ideal for curly and frizzy hair.
Castor oil: Fortifying and nourishing, castor oil promotes hair growth. Ideal for repairing brittle or damaged hair.
Hemp oil: Its non-greasy feel means it penetrates well to maintain hair's moisture and elasticity without leaving a greasy residue. Hemp oil is particularly appreciated by frizzy hair.
Avocado oil : Avocado oil is essential for nourishing and protecting all hair types. Soothing, protective and fortifying, it retains moisture and enhances 4C curls.
Pre-shampoo powder masks
Plant-based powders are also very popular with frizzy hair. They promote hair growth, strengthen hair and, above all, make it thicker. Frizzy hair, which is naturally very fine, needs to be strengthened and protected against breakage and damage. Simply mix one or more powders with warm water, or add a little vegetable oil. Leave on for at least 30 minutes before shampooing.
Brahmi powder: Brahmi powder makes hair thicker and shinier. Used as a pre-poo, i.e. as a hair mask before shampooing, it is a real sheathing treatment. Simply mix with warm water. On the other hand, it tends to darken hair, so it's ideal for dark hair. Brahmi powder can leave some residue on the hair, so it's best to apply this treatment before shampooing and rinsing the lengths thoroughly.
Neem powder: Its cleansing power also helps maintain a healthy scalp and soothe it, preventing dandruff and itching.
Kapoor Kachri powder: A real treasure for hair, Kapoor Kachri powder makes hair shinier and, above all, thicker and fuller. It naturally stimulates growth and leaves a pleasant scent on the hair, making it the ideal ally for preparing your hair care products.
Lalo powder: This powder is rich in proteins, calcium and fixing polysaccharides to control frizz and define hair's natural curls. Baobab leaf powder also nourishes and maintains moisture in dry hair.

Shampoo: how to wash frizzy hair?
It's best not to wash frizzy hair too frequently. Indeed, frizzy hair is naturally fine and quite fragile. It's important not to stress it by shampooing too frequently. The ideal time between shampoos is every 10 to 15 days. Shampoo your scalp and clean your hair in sections to thoroughly cleanse the pre-poo.
Dry your hair with the Bamboo Towel, ideal for drying frizzy hair without breaking or creasing it.
How to avoid itching between shampoos.
The problem of itching can quickly arise when we space out our shampoos for so long. As a first step, you can use hair scrubs to purify and detoxify your scalp. This will cleanse the scalp and reduce itching.
You can also use Neem powder for your pre-poo treatments, as it's ideal for combating itching!
How do I detangle my frizzy hair?
When should you detangle frizzy hair, before or after shampooing? By hand or with a comb?
It's important to make this step part of your routine, after shampooing. First, it's essential to use Detangling Balm to make detangling easier. Highly moisturizing, your hair will be soft and shiny, and much easier to comb. You can detangle with your fingers or a wide-tooth comb. Separate your hair into several sections for faster, easier detangling. You can also make your own recipe for Frizzy Hair Detangler .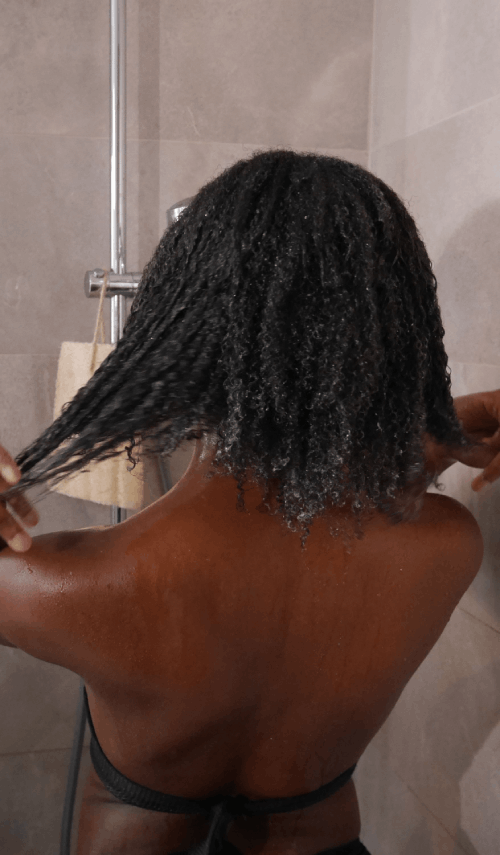 LOC or LCO method
Taking its name from an English acronym, this method aims to moisturize even the driest hair, and is widely used by African-American women. It involves layering different types of product to maximize the hydration of frizzy hair.
LOC
L: Liquid (water)
O: Oil
C: Cream
or
LCO
L: Liquid
C: Cream
O: Oil
After washing, you can spray a little floral water on your lengths for the Liquid step. Then, for the "Oil" step, choose the oil that best suits your hair. If you're not used to using oil, Baobab, Moringa or Hemp oil are ideal for frizzy hair. Coat your lengths with the oil to seal in moisture and keep the water trapped in the hair. And to finish with step C "Cream", use the Hair Care Base as a leave-in.
The LCO method is based on the same principle, except that you perform step C "Cream" before the Oil step.
Both methods are suitable for frizzy hair, so you can test both and choose the one that suits you best!
Style and preserve frizzy hair overnight!

As we've already told you, frizzy hair is very fragile and needs love! It needs to be pampered with protective hairstyles to prevent breakage and frizz. The hairstyles of our childhood!
It's important to protect your hair while you sleep, especially if it's frizzy. Opt for a silk or satin pillowcase , or use a silk or satin scarf as well.
These soft materials will help protect your lengths and prevent hair breakage at night. What's more, they make it easier to style frizzy hair in the morning!
Braids
Braids are very popular, especially with little girls. You can make two or more, and let your imagination run wild when it comes to protective hairstyles.
Vanilles
This is the easiest protective hairstyle to achieve. It protects lengths and moisturizes easily.
cornrows
A traditional African protective hairstyle, cornrows are braided very close to the scalp.
You've got everything you need for a simple, effective frizzy hair routine. If you preserve and pamper your hair, you'll prevent breakage and promote growth.
WE APPRECIATE YOUR FEEDBACK
Did you like this story?